So I finally sat down today and looked through my new book, "Beyond the Square: Crochet Motifs," and I picked a motif! It's a square, of course, something easy, yet beautiful. I'm using Caron Simply Soft in Iris, Charcoal Grey and Ocean, they will be joined with Raspberry. I've made two so far, and loving this pattern.
Here's one square, I'll post more photos later.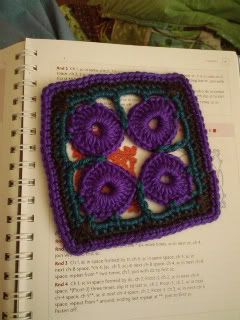 Isn't it purty?
Also I want to make a bunting for Noah's room...not sure what colors though. I do have a few ideas, since his theme is basically Noah's Ark, and the colors in there right now are green, brown, blue and white, I might just go with those and find some way to incorporate animals into it.