I'm in the (very slow coming) process of making some baby items for a friend's new grandson. Right now I'm making a blanket.
Here's what it looks like so far: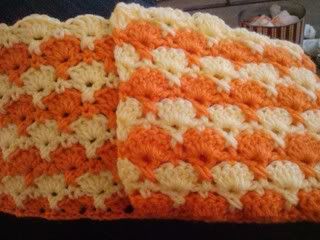 Stitch Pattern is from "50 Stitches for Afghans" by Darla Sims, block #25
I'm using some leftover baby yarn from one of Noah's blankets, there's almost a full ball of each color...
Bernat Baby Sport in Tangerine and Baby Yellow.
OH and Ravelry hates me...I can't access my profile... *sad sad face*